Our story so far.......
Nahrof began in 1989 with the birth of our first litter and since then our kennel has endeavoured to produce Border Collies which excell in soundness and temperament while still maintaining the breed's natural tractability and desire to work - whether that 'work' involves the show, performance or herding arenas or as a well trained companion dog.
Our foundation bitches were "Brie" Gotrah Celtic Brie CD TDX (1986-2003) and "Bonnie" Aust Ch Kantalpa Tuxn Tailz (1988-2001) and the success of our kennel has been based on progeny bred from these two great (and very much missed) girls.
"Brie"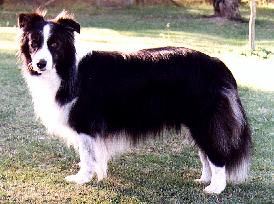 "Bonnie"
The other bitch to feature in our early breeding success was "Scully" Aust Ch Wiralee Moon Shadow (1996-2012) - a lovely bitch and a great producer who enjoyed her retirement years (and her birthday!) with Joy's mum Lorna.
"Scully"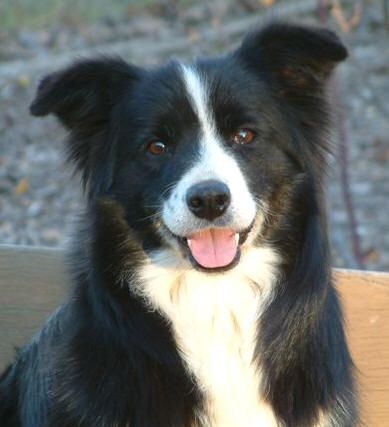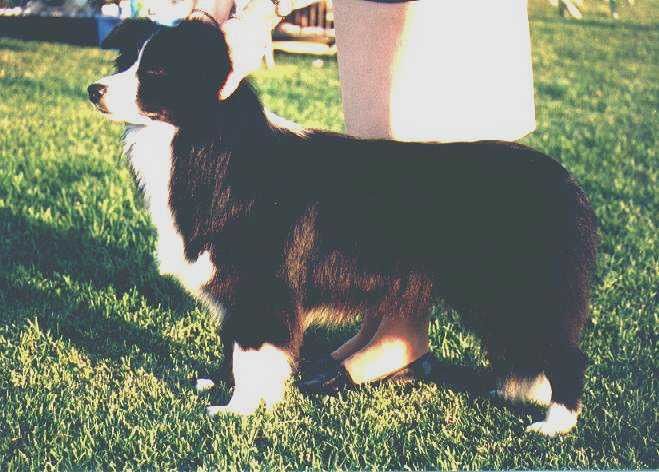 In recent years the Nahrof "Team" has grown to include our friends Melissa Dean and Debra Richardson and they have become an integral part of our kennel. We are also blessed to have the support of Vicki & Daryn Collins (NSW), Julie Huber (NSW) and Kaye & Craig Hansen; Matt Fisher & Sam Ryder and Linda Norman in South Australia who fill their homes with Nahrof dogs and campaign them with great success.....these friends enable our continued showing and breeding success and we will be forever grateful for their friendship and support.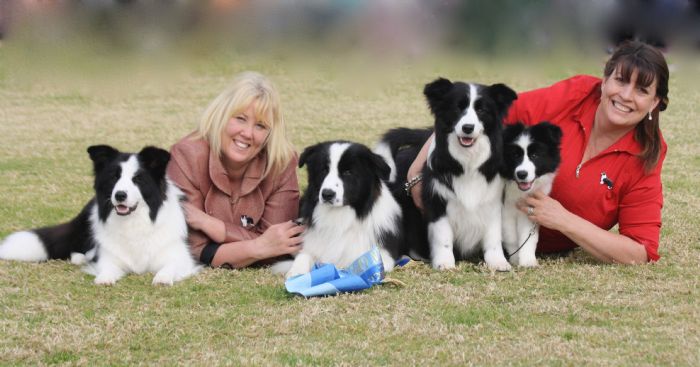 Mel and Deb pictured with Stella, Quill, Gel and Easy
To date, the Honour Roll for Borders carrying the NAHROF prefix includes:
134 Show Champions including breed champions in AMERICA, AUSTRIA, BRAZIL, BOSNIA, CANADA, ESTONIA, FINLAND, GERMANY, HUNGARY, IRELAND, ITALY, JAPAN, NEW ZEALAND, PHILIPPINES, POLAND, SLOVENIA and UNITED KINGDOM

33 Home Bred BEST IN SHOW winners and 29 RUNNER UP BEST IN SHOW winners

64 Home Bred BEST IN GROUP winners and 51 RUNNER UP BEST IN GROUP winners

25 Grand Champions (Australia) and 4 Grand Champions (USA)

1 Grand OBEDIENCE Champion - the first of ANY breed in Australia! and 7 Obedience Champions

1 Grand Neuter Champion

11 Supreme Champions

6 International Champions

2 Dual Champions (Show / Obedience)

1 Dual Champion (Obedience / Tracking)

1 Triple Champion (Show / Obedience / Tracking)

1 Triple Champion (Obedience / Dancing / Heelwork to Music)

2 Quadruple Champions (Tracking / Dancing / Heelwork to Music / Rally O / Obedience)

2 Dual Champions (Dancing / Heelwork to Music)

1 Dual Champion (Show / Herding)

1 Working Trial Champion (USA)

Numerous other obedience, agility, endurance, tracking and herding titles

Lots of lovely companion dogs!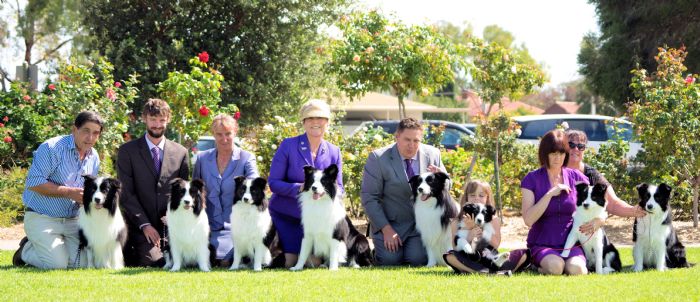 Team Nahrof - South Australia - pictured with:
Stryker, Ice, Sketch, Crash, Jackson, Winter, Breeze and Chilly
This lovely line up of CHAMPIONS includes 2 Supreme Champion and 6 Grand Champions !
Contact Details
NAHROF BORDER COLLIES
Bringelly, NSW Australia 2556
Telephone: 0414 833 922
Email contacts:
Lauren Somers - [email protected]
Errol Badior - [email protected]
Melissa Dean - [email protected]
Deb Richardson - [email protected]
Vicki Collins - [email protected]